When the first Google Home came out in 2016, I briefly thought about buying it, but decided I had no use for it. Shortly after, my brother-in-law bought me two Chinese Tuya White-label smart plugs from Amazon. I plugged a couple of lamps into them and was hooked. Google home followed shortly after. At the time, we were renting and so my ability to "smartify" our home was limited. I replaced many light bulbs with Sengled bulbs, changed out smoke detectors for Nest, but that was pretty much it.
In 2019 we bought our first home. I knew from the beginning that building a smart home would be an obsession. During the year leading up to the move, I kept my eye on deals and snatched up some of the essentials- Hue light bulbs, Nest smoke detectors, Nest lock, Nest thermostats, and maybe a few others. Anything that could be replaced by an electronic wireless device was on the chopping block.
At this point I knew nothing about Linux or Home Assistant. The best smart home options were the well-known cloud versions. I set up a few automations with SmartThings, but that was it.
After a few months, I came across a Reddit Post about Mozilla Webthings. It was an incredibly simple smart home solution which could be installed on a raspberry pi. I drove straight to Micro Center to pick up the necessary equipment and got started. This solution was game changing but I quickly reached it's limitations and the never-ending quest for smart home supremacy began.
Below is a diagram of my current setup: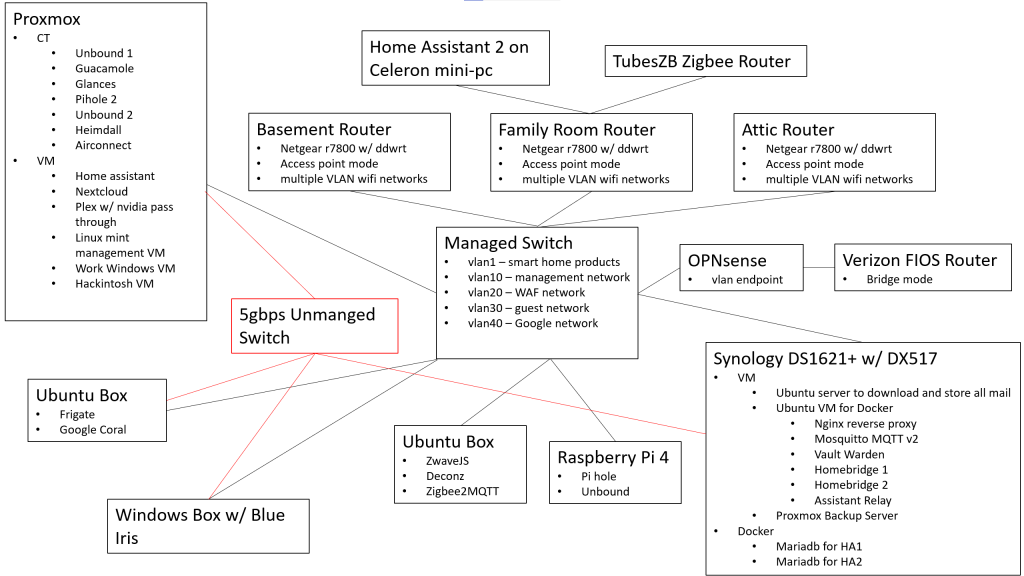 Initially, I migrated everything to the fewest number of boxes as possible. This scared me since there was only a single point of failure. More recently, I have purchased very cheap celeron computers from Amazon Warehouse and have used a few to host various services.
I hope to share some lessons learned as someone who entered this knowing nothing and after a lot of hard work, I can honestly say I know more than nothing, but still very little.
Thanks for reading.