UPDATE 10/15: READ IF YOU PLAN TO USE HUB WITH ZHA
The updates for this little device keep coming. Thanks to the folks leaving comments, we keep getting more information. I apologize for not noticing this myself, but I did not spend any time trying Zigbee2Tasmota on this device having played with it enough on the Sonoff hub.
A commenter, Ronald, noted that using Zigbee2Tasmota, attempting to pair Zigbee devices caused the hub to reboot. I confirmed this myself, and tried with both Zigbee firmware packages from the EmberZNet NCP UART EZSP firmware page.
I attempted to build a firmware using the development branch of Tasmota instead of the Release branch, but it totally bricked my coordinator. After re-soldering and flashing again, I tried the unofficial Tasmota32-zigbeebridge.bin mentioned on the Blakadder Template Repo. At the time of this writing, the Tasmota version is 9.5.0.9. Miraculously, I was able to pair devices as expected.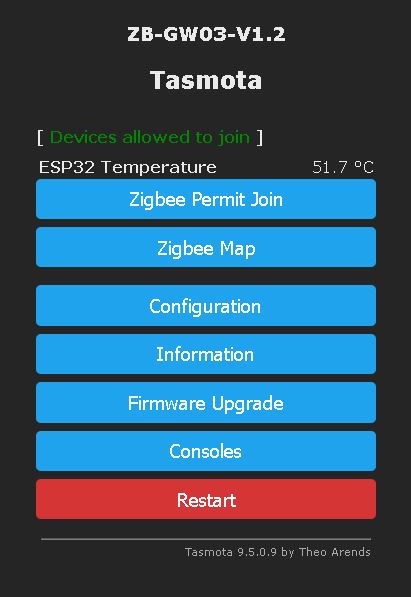 After flashing this firmware, you would set it up following the instructions from the initial post by changing the template and then disabling WiFi if desired.
To use ZHA, I would still recommend you follow the instructions from the first update and building a custom firmware so that the necessary rules to self-correct following a cold boot will work.
Hopefully, whatever fixes exist in the nightly build will make their way to the stable branch and a single firmware will be able to accomplish ZHA and Zigbee2Tasmota.
Please keep me updated with any issues or questions. Thanks!
UPDATE 10/15: READ IF YOU PLAN TO USE HUB WITH ZHA
UPDATE 10/30: The above issue was acknowledged on Github and apparently had something to do with the serial communication in the Tasmota firmware. As noted above, that is why the unofficial zigbeebridge firmware works. It containts a fix for the serial communication.